Where to choose your villa rental in Menorca ?
Popular for its wildness and intimacy compared to the other Balearic islands, Menorca is a surprisingly beautiful island. Its rich nature and tranquil setting make for a dream holiday in Menorca. Finding a property to rent in Menorca, especially a villa or a luxury house, is easy with
Menorca Villa
. Treat yourself to maximum luxury and pleasure during your stay in Menorca. We offer you a choice of more than forty dream villas, so you can find the ideal rental house for your perfect holiday. A luxury villa tops even a stay in a Menorca club hotel or a 5-star hotel !
The island of Menorca covers an area of approximately 700 m². Here are the best places we recommend for a peaceful and intimate holiday with your loved ones.
1. Holiday rentals in Menorca near major towns: Mahon and Ciutadella
Discover our range of luxury accommodation close to the major cities, while still remaining in a calm and natural environment. Which of our beautiful seasonal properties, waterfront villas, luxury homes and charming houses will you choose ?
Mahon : discover Menorca's capital
If you prefer the city, Mahon, the capital of Menorca, will surely appeal, with its friendly atmosphere, sunny terraces and beautiful views of the island of the King. Rent a luxury villa in Menorca in
Port Mahon
, a large natural harbour overlooking the Mediterranean Sea. An interesting fact: this seaside capital is believed to have inspired the name of mayonnaise, which was apparently invented there ! For your holidays, you might also choose to rent a villa on the coast, in
Binibeca
, only 10 kilometres from Mahon.
Your private hotel near the town of Ciutadella
You may also prefer Ciutadella, Menorca's second largest city. The former capital of Menorca, often considered the most beautiful city on the island, has many palaces and beautiful buildings, such as the cathedral of Santa Maria. There is an abundance of activities to choose from, all within easy reach of the beaches. Menorca Villa offers villas for rent
near Ciutadella
, in the west of the island, with a swimming pool and often a magnificent sea view.
2. Rent a house in Menorca by the sea
If the turquoise waters and fine sand of the Mediterranean Sea appeal to you, then you should consider renting a beautiful house with a swimming pool near the coast. This way you can explore
the most beautiful beaches
Menorca has to offer.
Properties near the beaches of southern Menorca
Renting a villa in Menorca means that you can also enjoy the beautiful beaches of the south of Menorca. Whether it's a holiday rental in Menorca on the
south coast of the island
or
in the beautiful village of Es Migjorn Gran
, the southern beaches are never far away. From your villa with private swimming pool, discover the beaches of Binigaus, Cala Mitjana, Cala Turqueta...
Reserve a private house near the northern beaches
If it's the wilderness of Menorca that appeals to you, then rent a luxury villa close to the beaches of northern Menorca. The beaches of Cala Algaiarens, Cala Pregonda, Cala Cavalleria and Cala Pilar are just some of the places you can discover from your Spanish villa. If this sounds appealing to you, don't think twice about renting a luxury house in this part of Menorca.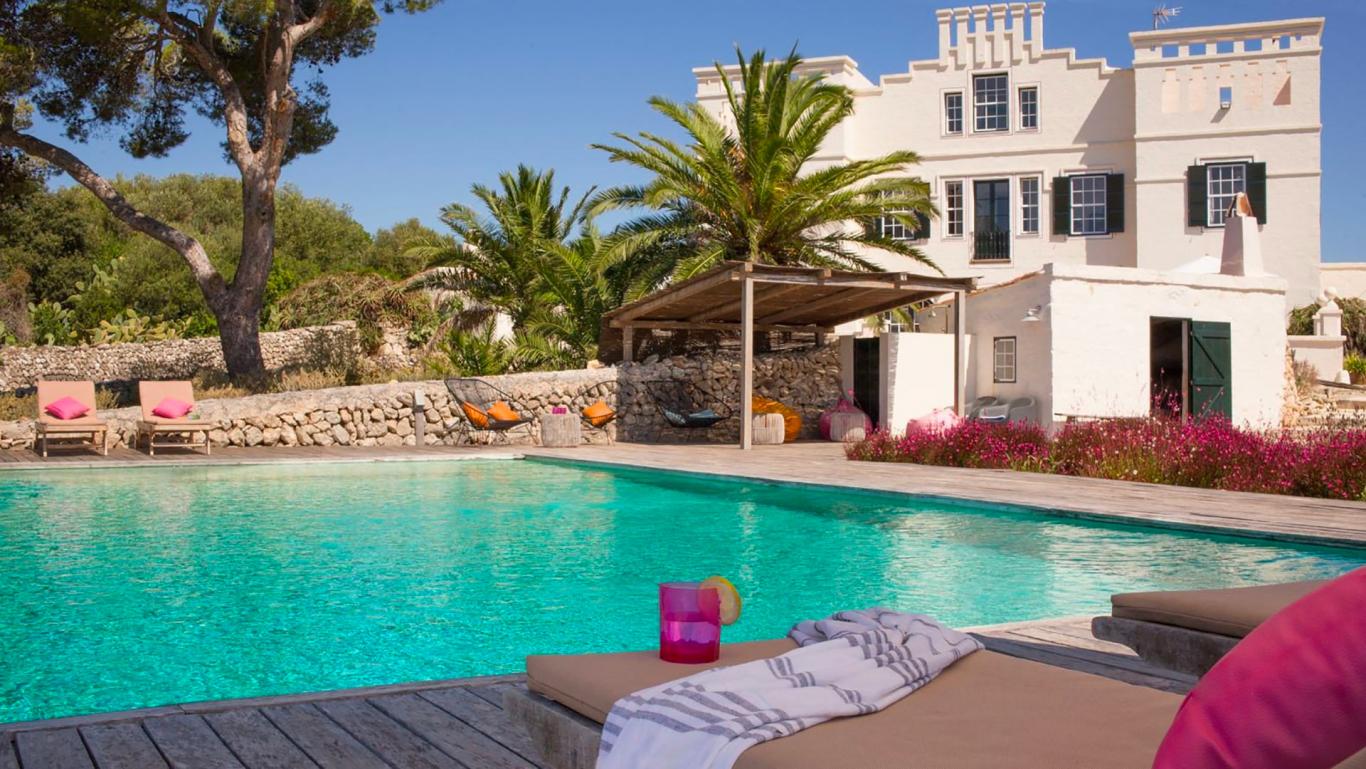 3. Menorca: rent a house in the countryside
Beautiful luxury villas can be found all over the countryside of Menorca, such as in
Alaior
. With a holiday home in the heart of the island, it's easy to get out and meet the locals, including, for example, the local craftspeople.
>> Rent your beautiful, safe luxury villa with
Menorca Villa
. We offer you holiday home rentals in Menorca with private pool and, more often than not, a sea view. Sometimes a jacuzzi or direct access to the sea can further add to your holiday in Spain. Depending on your needs, it is also possible to add personnel to your service in our holiday homes: cook, maintenance man, waiter... Find your favourite destinations among our holiday rentals, with all the comfort of a private residence or top-of-the-range holiday flat, with the added bonus of space. Whether it's for a seasonal rental or something longer, Menorca offers you a luxurious setting, far removed from the traditional rental announcements.